Specification
Dark Island
Residential Cruise Ship
The Clydebuilt Dark Island cruise ship residences offer the ultimate in luxury living. Wake up every day to a fantastic new view and then find the best place to relax and unwind on-board or onshore.
General Data
Ship Name
Dark Island
Type
Cruise Ship
Owner
Clydebuilt Ltd
Builder
Clydebuilt Ltd, Scotland
Port of Registry
To be determined
Status
Detailed design and testing before build
Weight & Dimensions
Tonnage
39,980
Length
220.0mt (722ft)
Beam
28.0mt (92ft)
Draught
6.3mt (20ft 6in)
Technical Data
Installed Power
Clean fuel LNG 23,400kW (31,350hp) (Total) with power supply energy storage system for minimum environmental impact.
Propulsion
2 x 7.5mw electric motors, twin shafts with variable pitch propellers
Speed
18.5 knots, 25.0 knots max
Decks
10
Suites
101
Residential Capacity
300
Crew
180
Dark Island will be constructed with a hull design suitable for operation in the Polar regions, using sustainable materials as far as possible which will  have minimum effect on the environment, designed and built to last at least 50 years.
We strive to align with the UN Sustainable Development Goals (SDGs) through policy and practice for sustainability and green initiatives.
Designed with the latest air handling filtration systems and environmental safety measure protocols to combat infections, it will be one of the safest places on earth to live.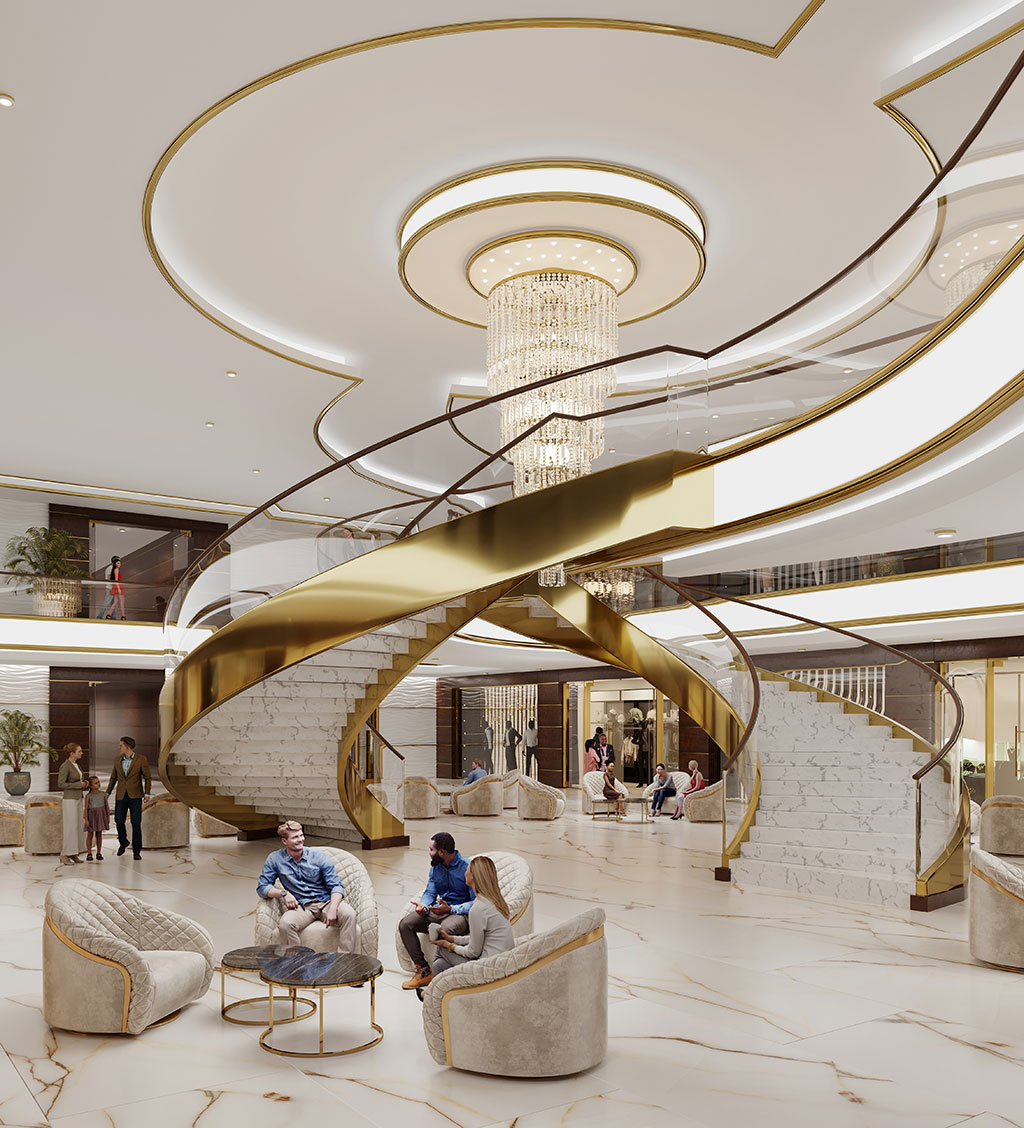 Dark Island Atrium is open and spacious with twin spiral stairways and elevators, constructed using sustainable materials.